The Royal Society is regarded worldwide as a well-respected and established academic organisation. Since the 1660's they have made it their purpose to 'recognise, promote, and support excellence in science and to encourage the development and use of science for the benefit of humanity.'
Over the years we have developed a very strong and honest relationship with the Royal Society. This spring they approached us to help promote their Summer Science Exhibition. However, this year was very different.
Royal Society live-streamed the event to make it more accessible to global audiences and brought us in to create videos that captured 6 of some of the most inspiring and challenging science exhibitors their event had to offer.
The Summer Science Exhibition's main aim is to make science more accessible to as wide an audience as possible. As such, we worked closely with the Royal Society team and their exhibiting scientists to help present the scientific principles in an understandable way, without simplifying or 'dumbing' the science down.
We set the tone of these videos to feel like Live TV and a bit raw so that they were in keeping with the overall format of the live-streamed Summer Science Exhibition as a whole.
Our senior creative Chris Light loves immersing himself in the stories he captures, and as our 'resident nerd' he jumped at the chance to direct these videos, having worked with the Royal Society on the previous series we produced, featuring Brian Cox.
6 SHOOTS OVER 4 DAYS
After a fairly extensive pre-production phase, we planned 6 shoots over 4 days, spanning from a snooker hall in Chiswick to a genome factory in Edinburgh.
We recorded stories of cutting-edge scientists showing us their life-changing work, including researching and cataloguing over 70,000 DNA sequences across the British Isles, finding replacements for oil and the potential ramifications of space weather to our planet.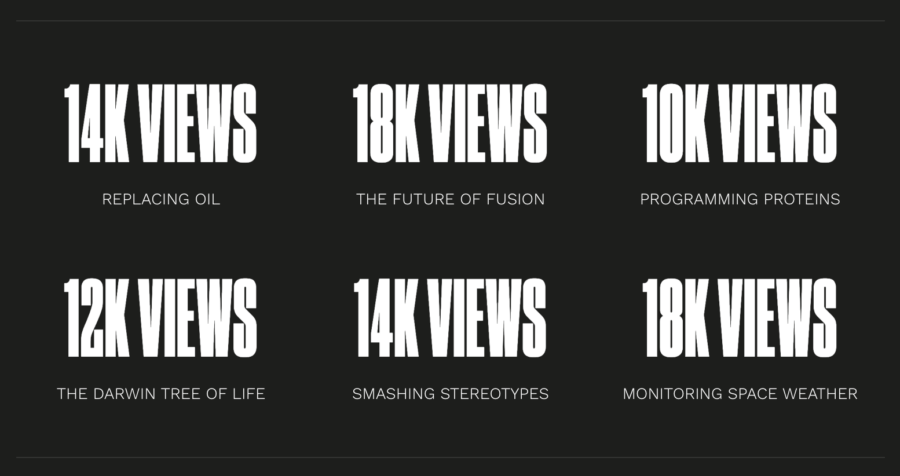 We wanted to make these videos as engaging as possible, especially for younger generations, so we enlisted the help of TV presenter Esme Todd. We worked closely with Esme to introduce context and help summarise each video, whilst making them feel conversational.
The output of this series was 6 engaging and varied videos, resulting in a very happy client. We turned a few heads in the academic world, whilst encouraging younger generations to further the work of these cutting-edge scientists, inspiring the next generation on the forefront of creating a very optimistic future.