It's the World Cup! In Winter! It may feel strange, but the boys are charging forwards and into the last 16. On Friday 25th November, the day of the USA match, the excitement was palpable. We had the chance to get the energy pumping even more by filming a campaign for Müller Rice and Declan Rice, named Rice Rice Baby. The idea was simple – get a load of England fans to do challenges and tasks based around Rice in the fan park and surrounding pubs in Waterloo. It was highly amusing and a bit hectic.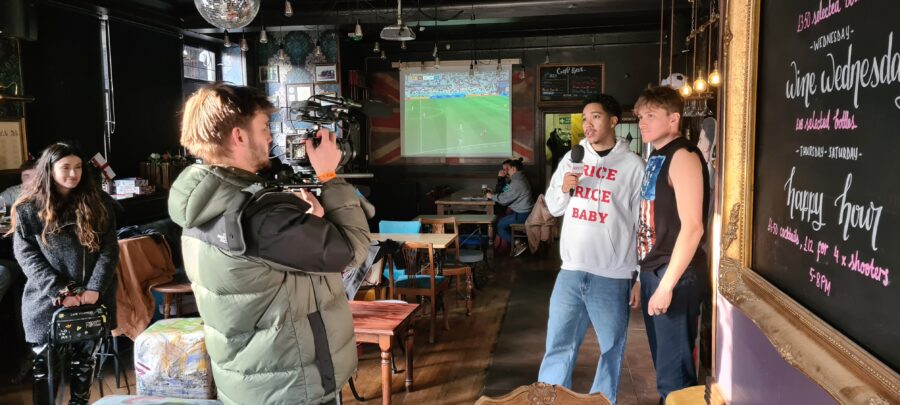 Unfortunately, Gareth Southgate denied our request for Declan to fly back from Qatar, so we printed a life-size cut-out of him instead. Our presenter, Craig Mitch could use him to draw in the fans. The shoot started in a calm manner with only a few fans out for the early games. This allowed us to refine the format ahead of the madness that came later. Luckily we have years of experience filming at nightclubs, festivals and large busy crowds of inebriated revellers. This allowed us to keep our calm and get the footage whilst being surrounded by excitable England supporters doing what they do best – shouting and drinking beer. Once Majestic started djing football anthems to get the crowd hyped, the place was beyond lively. Ecuador by Sash after the game finished was a particular highlight.
The production
We had a small Clockwise team – two camera ops, a sound recordist and a producer. Luckily we had a lot of support from the agency, fending off fans whilst getting release forms signed. Dishing out props (and making sure we got them back) and getting new willing participants was quite the operation!
Follow Müller Rice on Instagram to see the content released throughout the World Cup. Expect sing-alongs (Rice Rice Baby), keepie uppies, tongue twisters and all things Rice related. Thanks to our friends at VCCP for the experience.