In summer of 2021, our Senior Producer, Sophie Jones applied for the BFI Short Film Fund as an independent producer. Writer, Amy Spinks, came to Sophie, wanting to make a comedy film about female friendships. Their joint mission and motive was to have as many women on set as possible. The aim was to promote women as heads of departments or help get their foot in the door. Women only account for around 25% of those working in key behind-the-scenes roles across the film industry, which is something Sophie is keen to help change.
It's honestly been the best experience I have ever had on a set and I really hope I can work with you and the rest of the team again soon.

Phoebe Little, Runner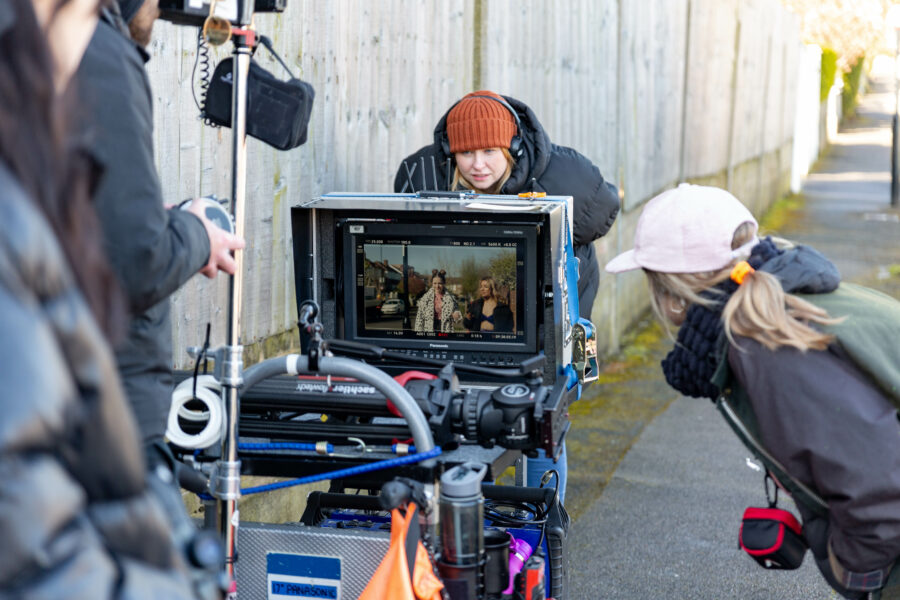 To her surprise (but not ours), Sophie received the full funding amount from the BFI in October 2021. Following then, Sophie ran the production simultaneously to her Clockwise obligations, however, the budget was tight, hence it was decided the entire shoot would be squeezed into a day.
Sophie went above and beyond for our production. Her communication and organisation were hugely appreciated throughout, always the professional. Sophie is a team player and she ensured everything on the shoot day ran smoothly and all the crew were looked after. Couldn't have asked for someone more dedicated and lovely to work with.

Amy Spinks, Writer & Lead Actor
With a brilliant crew and the weather on their side, Peeler started filming on the 9th of April 2022. Over the course of summer 2022, the film went through editing, tweaking and grading (with the help of the Clockwise crew, Buff David and Curt Piercy). Recently, Sophie received full delivery and sign-off from the BFI, following the official selection for a showcase screening. Peeler will be showing on 1st December at The Garden Cinema, Covent Garden and on 11th December at The Kino Cinema, Bermondsey.
Peeler has been entered into multiple film festivals and we can't wait to see what the future holds for the team and their funny film.
Film Festival Submissions:
Cannes Indie Shorts Awards
London-Worldwide Comedy Short Film Fest
Women X Film Festival
Flatpack Festival
International Comedy Film Festival
LOCO London Comedy Film Festival 2023
Short Com International Comedy Film Fest
Raindance Film Festival