We are always looking for ways to collaborate with friends, family, and colleagues. Way back in March 2021 we had the ultimate opportunity to combine forces when we took over Campus Skatepark and tested its transitions as a potential theatre space. The question was simple – can a concrete skatepark be transformed into a space for dance and performance? If so, what impact would this have on the art created?
The opportunity to experiment with this question came about when our sister (quite literally) company Made My Wardrobe was awarded an R&D grant from the Arts Council to turn this idea into a reality. Working closely with a handful of collaborators, we spent two days in the skatepark exploring lighting, camera angles, dance, movement, expression and narrative, in a surreal bubble away from the stresses of the ongoing pandemic. 
Unlike the majority of our 'normal' work, this project had no set brief or guidelines. This made it more important than ever to focus our ideas whilst still experimenting. We had to remind ourselves that this was purely for research and development, and the finished product didn't need to fit into any box. Alongside the main project, we also put together a 'behind the scene' film that explored the thoughts of the contributors involved.
Q&A
Here are a few words from the creative director of Made My Wardrobe (and sister of Clockwise Creative duo Dan and Sim) Lydia Higginson: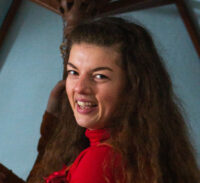 Alternative and immersive theatre seem to be growing especially post lockdown. Having spent this time in the skatepark how would you see a theatre production taking over the space?
Being in the skatepark confirmed my suspicions that it would be an incredible performance space. The potential feels really exciting. Fingers crossed we can get some more funding to make it happen.

We shot this in deepest lockdown. Reflecting on that time, what have you learnt about performance that you will take forward into future projects?

I learnt that making art during a global pandemic is hard! Understandably, I think it has taken everyone a minute to remember how to communicate, collaborate and work together in person. In all honesty, from this project I learned that trying to be a producer, performer and costume designer all at once is maybe one too many hats? But that is exactly what R&D periods are for!
Do you think film can play a bigger part in theatre and live performance? If so, how could this be incorporated?
Yes definitely, the more I work with my bros at Clockwise the more I start to 'think in film' when I'm visualising ideas. I also loved sitting in on the editing process. It's such a satisfying way of refining a piece of work. 
The film is being screened this weekend at Shextreme film festival the world's first film festival celebrating women in extreme sports and adventure. Date: 23rd October at the Arnolfini.
Tickets are available here.
Produced by
Lead Choreographer & Dancer
Choreographers & Dancers
Music
Costume Designer
Director
Camera
Lighting
Photography
Colour Grade
Special Thanks to
Jess Russel