Since the rapid rise of TikTok in 2020, our clients have been finding new and inventive ways to connect with their audiences via social platforms. We were recently approached by Girl & Bear, the brand new content creation studio launched by VCCP, to work with them as their video production partners for an exciting new project with one of their key clients.
The vision was – The noughties are back! Along with flash mobs, flip phones and the one and only STEPS. We provided full coverage with a discreet multi-cam setup, to avoid interrupting the magic of the surprise performance. We also had the added challenge of getting it all into a one minute TikTok video.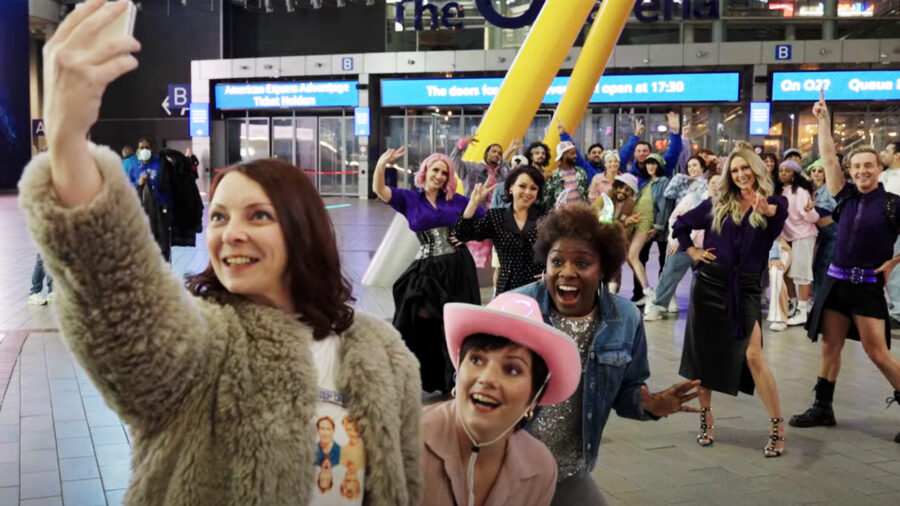 Girl & Bear have started the first month in operation by working with O2 & Samsung to promote the brand new Samsung Galaxy Z Flip3 on the O2 network. It was key to the client to have a long-form 'hero film', three product feature films, but most importantly they needed that all-important TikTok shot. Cue Clockwise.
We had two days of rehearsals to collaborate with our friends and choreographers Reuben Feels. We analysed the various angles of their immersive and joyful flash mob, factoring in those vital product shots. Rehearsal days are a luxury for a camera crew, however, it was crucial for our team to lock down a shot list, key product moments and choreography for the TikTok video.
The day of the shoot came around and our Clockwise crew arrived in bubbling spirits at the O2 Arena. We had five performances of the flashmob to ensure that we captured every angle, key performance moments, audience reactions, close-ups of Steps performing and the features of the phone.
This shoot was different to the norm as our DOP and creative director, Daniel Higginson, was shooting continuously on a Samsung S21 Plus. This was important in order to create an authentic phone-native piece of content. With the help of Reuben Feels, Dan's movements were choreographed amongst the dancers, resulting in what feels like an organic, and hopefully high traction, TikTok video.