When Chelsea approached us with the idea of a Legends episode of the Chelsea X Three Connect with series, they explained it was a bit of a wildcard. In this case study, we'll look at how our production studio turned a wild idea into compelling content that connected Chelsea's old legends with a younger target audience. Learn how we leveraged our expertise to bring nostalgic locker room stories and innovative storytelling techniques to captivate the football audience.
Development
Whether we're making long-format documentaries or short-form branded content, we know how to make top talent open up. They need to feel comfortable, and second, they need to be excited by the project. Through concept development we came up with the idea of two legends playing Guess Blue, a twist on the classic Guess Who board game! Chelsea and their sponsor, Three, loved the idea and agreed to the nostalgic marketing strategy. However, they wanted life-size cards to suit the brand and to break through the noisy world of sports-branded content and video production.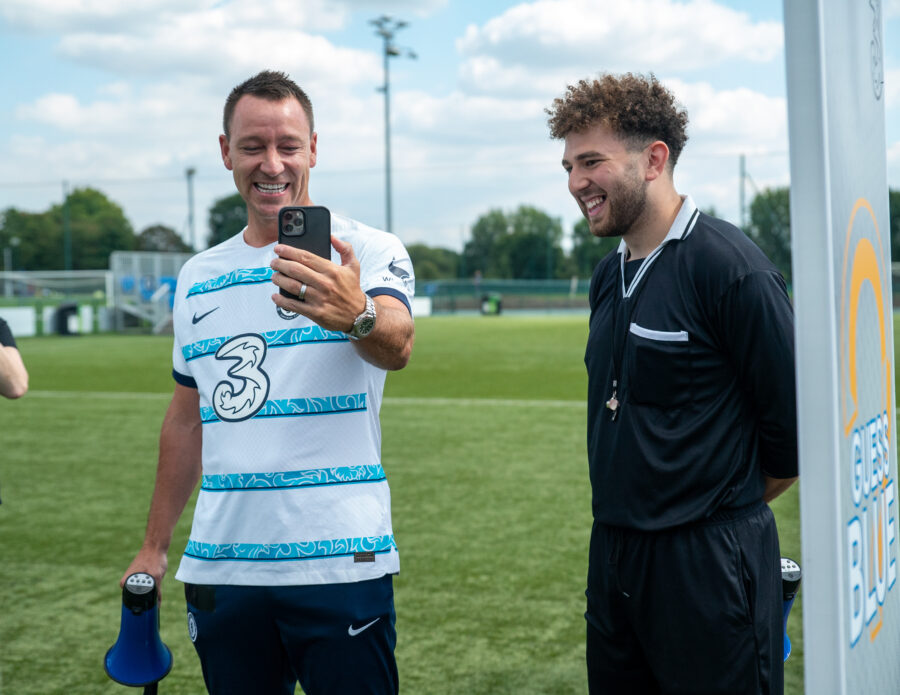 Shooting the content
A fortnight later we stood at Chelsea's Cobham training ground with the sun on our faces and with our bespoke Chelsea Guess Blue board. We had a huge Jib circling the board to cover the action and Zac Djellab dressed up as a referee to keep the players in check. The introduction of Zac connected the Legends to his younger Gen Z audience and gave us greater control of the content, as we were able to guide the conversations through him.
Claude Makelele joined John Terry on set to play the game. Terry turned up with a beaming smile on his face and announced his love of the board game. At this point, we knew we were in for a fun production shoot. Using the mechanism of the Guess Blue board as a catalyst for storytelling, JT needed very little encouragement. Being faced with life-size cut-outs of his former teammates ignited memories and anecdotes from his many years at the club. 
One by one they knocked the players down with intriguing questions that revealed the truth about life behind the scenes at Chelsea Football Club. The casual, competitive and fun format fuelled the banter between the two players as they competed to win the game. We got so much more content and engagement from the players than we would have from a normal sit-down interview.
As is often the case, there were loads of great stories that didn't make the final cut. Here are a few exclusive outtakes from the Chelsea X Three day.