Chelsea X Three, Connect with Golf is the third episode of Chelsea and Three's Connect With series. This project presented many challenges and the first hurdle was the fact that our Chelsea players weren't keen golfers.
The idea of hacking our way around an entire golf course with a pair of novices could be funny! However we didn't feel like it could sustain the viewer's attention for the whole episode, so we had to think outside the box.
The penny dropped at our Clockwise summer party. Our company director, Ollie Prince, took home the trophy in a game of crazy golf, despite having no golf experience whatsoever. So that's it! Crazy Golf, the ultimate leveller and the perfect mechanism to connect the worlds of football and golf.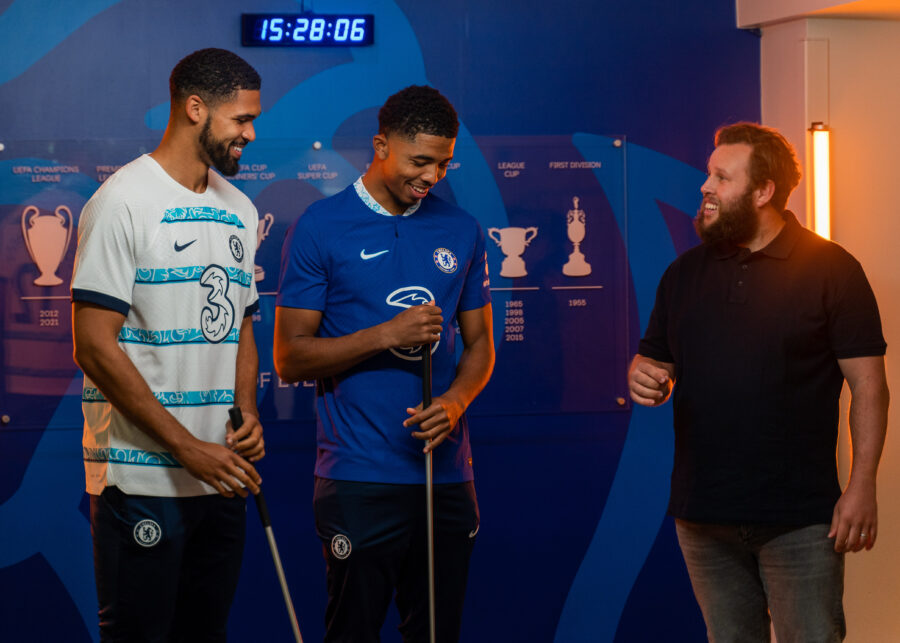 Creating the golf course
We decided the best location for this would be Stamford Bridge Stadium. We could combine the golf course with a unique stadium tour and give the viewer a peek behind the curtain. Three locations at the stadium captured our imagination – the changing room, tunnel and pitch side so consequently, we embarked on the design process.
We teamed up with golf experts AGI to design a bespoke branded Three hole course (see what we did there) that would wow the players and viewers alike. With all the constraints of running a football stadium, the build process was a logistical challenge however ultimately a great success. Che and the AGI team built the course offsite before pulling an all-nighter to install it before the shoot.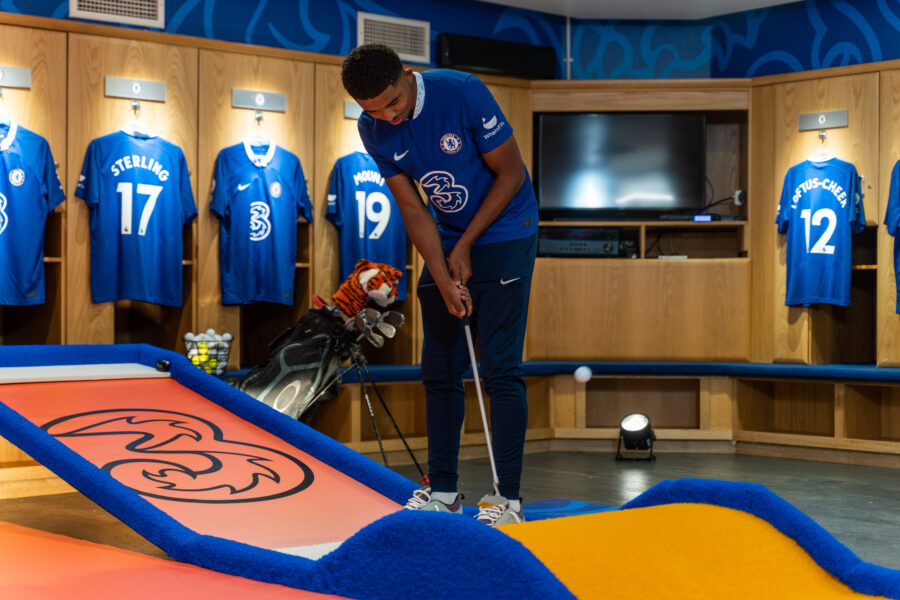 Finding the talent
The course was ready in all its glory and now we needed some golfers. Ruben Loftus-Cheek and Wesley Fofana were the Chelsea players selected to chance their arm on the course. The golfer taking them through their paces was larger-than-life personality and Golf pro, Andrew 'Beef' Johnston.
It was clear from our first meeting that Beef was the perfect man for the job; in his own words "If it involves being a big kid, I'm there!".
We had limited time with the talent and months of planning boiled down to an hour of fun and games on the course. The concept of crazy golf acted as a perfect seed for the footballers to pick the mind of an elite golfer. Beef, being a huge football fan, naturally wanted to quiz the Chelsea players about all things football as well.
Standing on the final green, watching Beef putt out was definitely one of the most surreal moments of our careers. You ask yourself, "How did we end up on a putting green in the middle of Stamford Bridge with Fofana, Loftus-Cheek and Beef?". The answer – an ambitious client, a creative brief, a super set designer and a lot of hard work and problem-solving!